WHAT IS THE PEZ?
The Planet Entertainment Zone (PEZ) is the place to come when you are looking for something stimulating and fun to do! The PEZ is located in Hall A on the exhibit floor.  This is where you will find a variety of interesting interactive activities for the kid in everyone!  New this year are interactive exhibits by 5-Hour ENERGY, GEICO, Oklahoma Tourism, Topgolf, KC STEM Alliance – First Robotics, Renewal by Andersen, Boulevard Brewing, Nebraska Furniture Mart and more!
We are proud to announce the first ever Esports Tournament at Planet Comicon! "Cataclysm – A Battle for Total Planet Domination!"  Come watch College, high school and open bracket teams  compete for awards and/or a share of $20,000 in prize money.  Tournaments for League of Legends, Overwatch, Counter-Strike Global Offensive, Fortnite,  a variety of fighting games and more competitions will be on display throughout the weekend. You can sign up and join a tournament,  or just try the free play PCs and consoles.
The PEZ is the place for entertainment and cosplay crafting demos and workshops.  With 60 different performances and demonstrations throughout the 3 day weekend, we believe you will find something that interests you!  Find out more about the PEZ Performance and Demo Stage's schedule and lineup here.  The PEZ is also where you will find out how talented crafters and seamstresses actually make the cosplays you see walking around the convention space!  See what is happening in the PEZ Cosplay Maker Space.
If you have love on your mind, look for the Super Sonic Speed Dating booth in the PEZ too! You never know where you will find love!
There is a lot to do and see in the PEZ this year! Come join in the fun!  Here are the activities you can look forward to in 2019!  We are adding to this list of exhibitors daily so keep checking back in!
---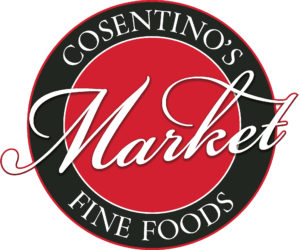 THE PEZ STAGE // Booth P1
Cosentino's Downtown Market is this year's Sponsor of the PEZ Performance and Demonstration Stage!  Conveniently located at 10 E. 13th street, the Downtown Market is a smart choice for your next convention meal!
---

5-HOUR ENERGY // BOOTH –  P59 // PEZ PRESENTING SPONSOR
5-hour ENERGY® Zone – This display is 5-hour ENERGY's National Tour that visits large events throughout the country, inside our activation space we offer free interactive games to all event attendees, our games can be played to win prizes and our staff offers (1) complimentary bottle of 5-hour ENERGY® to attendees 18 years of age or older.
---

GEICO // Booth P 90 // PEZ PRESENTING SPONSOR
The GEICO booth provides a fun place to visit where people can meet the Gecko, enter to win a $500 gift card, and take home a little prize. GEICO. Saving you money on more than just car insurance.
---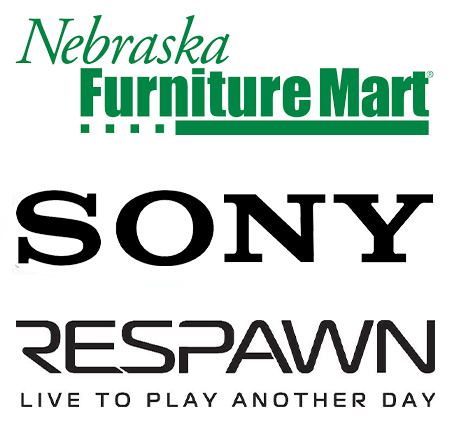 NEBRASKA FURNITURE MART // Booth P 57
Join us at the Nebraska Furniture Mart booth presented by Sony and RESPAWN. Nebraska Furniture Mart is your gaming headquarters with everything from console, to PC to retro arcade. We're also your one-stop-shop for board games, wall art and Funko Pop! collectibles. Stop by our booth and enter to win some great prizes from your friends at Nebraska Furniture Mart.
---
BOULEVARD BREWING COMPANY // Booth P 50
Kansas City's hometown brewery is coming to Planet Comicon – find us in the PEZ in Hall A.  Stop by the 'Boulevard Backyard' to sample our latest beer, Space Camper, and check out the old school video games provided by Tapcade.  We are bringing Flipswitch Virtul Reality ,  a Space Camper IPA virtual reality game, and Tapcade is bringing 8-10 old school arcade games! And be sure to come say hi to our friendly Space Camper Cosplayer!!
---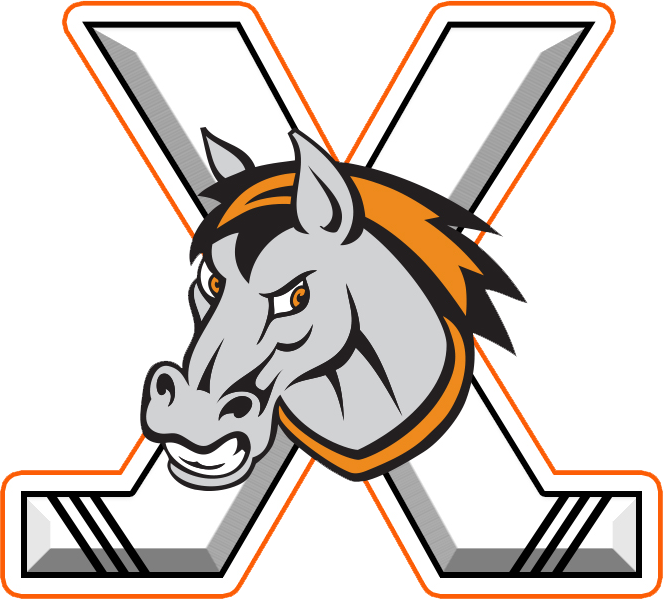 KANSAS CITY MAVERICKS HOCKEY   Look for The Mavs in the PEZ on Saturday from 11am-3pm.
The Kansas City Mavericks is your home town hockey team. Playing 5 minutes east of Arrowhead come see all the action on the ice and the best of Kansas City entertainment at the game. The Mavericks host Marvel, DC, Star Wars, Disney, Nickelodeon Theme Nights each season and want you to be a part of the fun! Stop by our booth in the PEZ area to have some fun with the team today and learn all about our 2019-20 Season.
---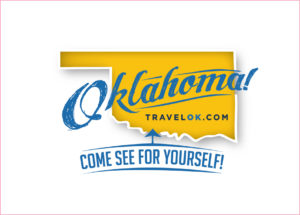 OKLAHOMA TOURISM // Booth P 76
From the state that brought you the creators of SpongeBob SquarePants and Dick Tracy comes a booth dedicated to all things Oklahoma. The Oklahoma Tourism booth features artwork by Jerry Bennett, who has done work for Marvel, Lucasfilm and The Stan Lee Foundation.  You'll discover fun pop culture stops throughout the state as well as all the exciting things to see and do. Want to experience the sights, sounds and roadside wonders of Route 66 — like a 66-foot pop bottle, a giant Blue Whale and the world's largest concrete totem pole? Want to pose with a towering Transformers statue or explore a museum dedicated to toys and action figures? You'll find all that and more in the state that's just a few hours' drive from KC.
The Oklahoma Tourism booth will help you jump-start your vacation-planning with free Oklahoma travel guides and advisers who can tell you how to visit the spots where "The Outsiders" was filmed, where you can see the world's first computer and the places you can go looking for Bigfoot. While you're there, enter a drawing for an Oklahoma get-away and pick up some crayons and a coloring sheet featuring Bennett's work.
---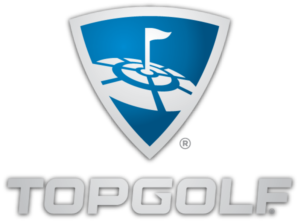 TOPGOLF // Booth P 88
Topgolf in Overland Park features fun and competitive golf games for all ages, climate-controlled playing bays for year-round comfort, an impressive food and drink menu, private spaces for groups of any size, HDTVs to watch the big game and a music selection that will make every visit feel like a party.  Stop by the Topgolf booth to pick up coupons and swag! Try your hand at our putting challenge!
---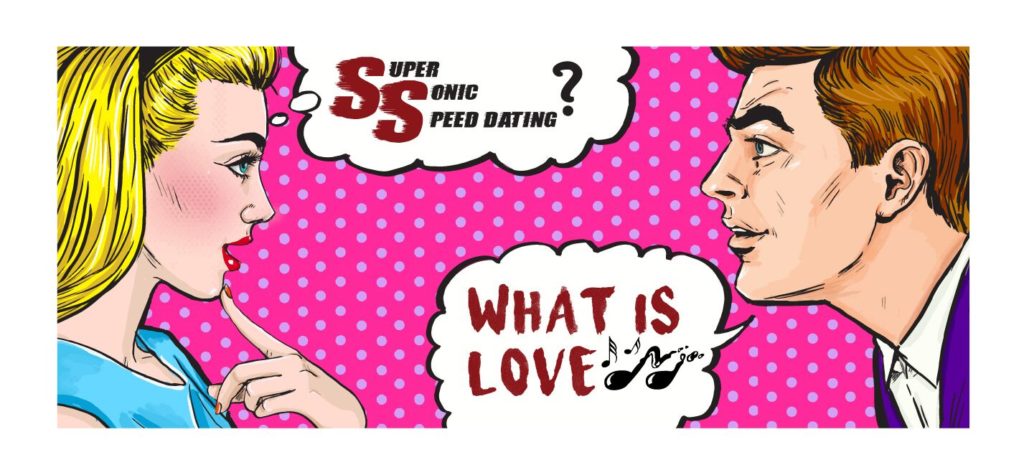 SUPER SONIC SPEED DATING // Booth P 67
Have you been hunting for your Princess Peach in all the wrong castles? Looking for someone to be on the Pokemon Go! with? In need of a Dragon ball hunting partner? Whatever it is you're looking for, you can stop swiping left and find your Smizmar at Super Sonic Speed Dating! Let us help you find a date in a flash! Super Sonic Speed Dating will be hosting hetero and LGBTQIA+ sessions all weekend long! Sign up at booth P-67 located in the Planet Entertainment Zone!
---

HAGUE WATER // Booth P 78
At Hague Quality Water of Kansas City, Inc., home water treatments are our specialty. Our high quality products, Gold Seal standard under the Water Quality Association, are the best. From water softeners to reverse osmosis products, we have them all – so that you can have peace of mind about the water you drink and use daily.
---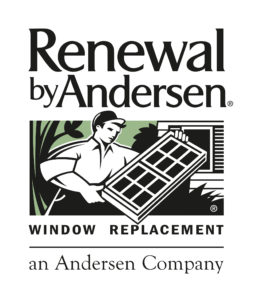 RENEWAL BY ANDERSEN // Booth P 98
Renewal by Andersen will be at Planet Comicon with a free photo booth!  Come take a picture, enter to win $10,000 in windows and doors and if you are interested, sign up for a free in home price quote with one of our design consultants!
---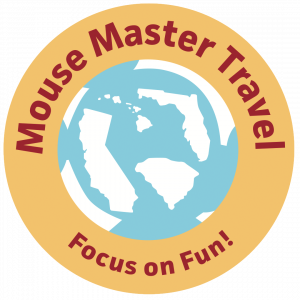 MOUSE MASTER TRAVEL // Booth P 106
Black Spire Outpost is on the edge of the galaxy, and won't be opening until this summer in Disneyland and late Fall in Walt Disney World. Meanwhile, Mouse Master Travel is excited to share a small taste of the Star Wars universe with you right here in Kansas City. Join us to participate in DROID RACES. Heats will be running at least every half-hour, with prizes for the winners. And Mouse Master travel professionals will be on hand to help you plan to experience the Star Wars universe up close and personal soon, at Disneyland theme park or Disney's Hollywood Studios.
---
WARNER BROTHERS // Booth P 65
Warner Bros. Pictures upcoming films SHAZAM!, POKEMON DETECTIVE PIKACHU and GODZILLA: KING OF ALL MONSTERS will be at Booth P-65. Come by and pose for a heroic selfie as SHAZAM! Become a Pokémon with a POKEMON DETECTIVE PIKACHU mask. Look up in awe at GODZILLA: KING OF ALL MONSTERS. All weekend we will be offering attendees an interactive set to take free selfies along with opportunities to win promotional items from each film and to see trailers for other upcoming Warner Bros. films.
---

LASIK VISION INSTITUTE // Booth  P 48
BETTER VISION, BETTER VALUE.  Are you ready to see things more clearly? Consider The Lasik Vision Institute for laser eye surgery, which can correct nearsightedness, farsightedness, and astigmatism. With more than 1.1 million surgeries performed, their experienced, independent surgeons are ready to help improve your vision.  Open your eyes, the world is waiting for you! Stop by The Lasik Vision Institute exhibit space to learn more and enter to win a FREE LASIK procedure!
---

LEAF FILTER // Booth P 66
Stop by the LeafFilter booth and take a picture with the Swampthing! If your gutters are starting to look like a breeding ground for your own Swampthing then you have come to the right place!
LeafFilter® is the nation's BEST gutter protection; A stainless-steel micro-mesh on vinyl base that installs on existing gutters to keep everything out and let all the water in.  So get off the ladder for good and enjoy clog-free gutters for life with LeafFilter®.  Money-back guaranteed.
---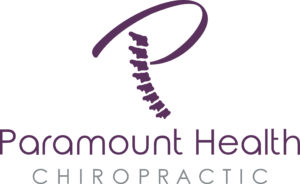 PARAMOUNT CHIROPRACTIC // Booth P 55
Paramount Health Chiropractic is a neurologically based chiropractic office. We use state of the art technology to assess your spine, locate where your misalignments are and administer a very gentle and specific adjustment. We see people regularly who are struggling with digestive issues, back pain, migraines, numbness in the legs and hands, and many other ailments. We have the privilege of working with people from days old up to over 100 years old.  At Planet Comicon, Paramount Health Chiropractic will be utilizing NASA published technology to assess your nervous system and assess the current state of your health.
---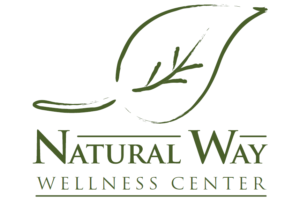 NATURAL WAY WELLNESS // Booth P 38
Natural Way Wellness Center is excited to be sponsoring "First Robotics" at this year's Comic Con. Come check out the  Lego League, First Robotics tech challenge and full size robot.  Also, Natural Way will be doing complimentary computerized muscle tension scans.  Be sure to stop by our both during this great event and see how your back stacks up.
---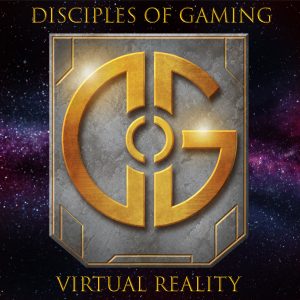 DISCIPLES OF GAMING // Booth P 70
IMMERSE YOURSELF
Prepare for a mind blowing VR experience like no other. We utilize the latest technology and setups to bring you an insanely immersive experience. Whether you are killing zombies, running from a demon or flying a star ship.
WELCOME to the FUTURE
This isn't your buddy's VR setup. We'll fit you with the most advanced VR headsets and motion-tracking technology powered by our custom built PC's to help you exit reality. The results? A VR experience like no other. Our experiences include room-tracking technology that allows players to move around the most space possible and when combined with our PC's and high-resolution headsets you'll be blown away! We offer single player or head-to-head multiplayer competition if two stations are rented.  
---
T-MOBILE // Booth P 84
T-Mobile is bringing the FUN! Come charge your phone, access wifi, and check out all of our accessories for your phone & more!  Here is what's available at T-Mobile's booth: Accessories, Tablets, Giveaways, Charging Stations, Samsung VR Experience, Games, and Expert Advice.  As America's Un-carrier, T-Mobile US, Inc. is redefining the way consumers and businesses buy wireless services through leading product and service innovation.  Are you with Us? For more information, please visit http://www.t-mobile.com.
---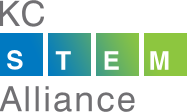 FIRST ROBOTICS BY KC STEM ALLIANCE // Booth P 35
KC STEM Alliance brings FIRST Robotics to Kansas City by hosting competitions and supporting teams. FIRST combines the rigors of science with the excitement of sports to engage students in STEM. Drive robots small and huge, learn about sensors and vision systems, and test your skills with this year's missions: Into Orbit, Rover Ruckus, and Destination: Deep Space.
---

PROJECT NERD // Booth P 74
Project-Nerd, the geek and entertainment brand, will be at Planet Comicon this year! Partnering with Planet Comicon for their 20th Anniversary, Project-Nerd will be onsite streaming, interviewing, podcasting, and hosting panels. Along with our typical coverage you'll find on Project-Nerd, such as photo galleries, interviews, and features, you can also catch Project-Nerd Live Streaming podcasts, guest interviews, cosplayer and prop-maker workshops, artist spotlights, and even the ballroom panels. Come say hello to the team!
After the con, check out all the awesome content online so you can relive Planet Comicon's 20th Anniversary time and time again, courtesy of Project-Nerd!
---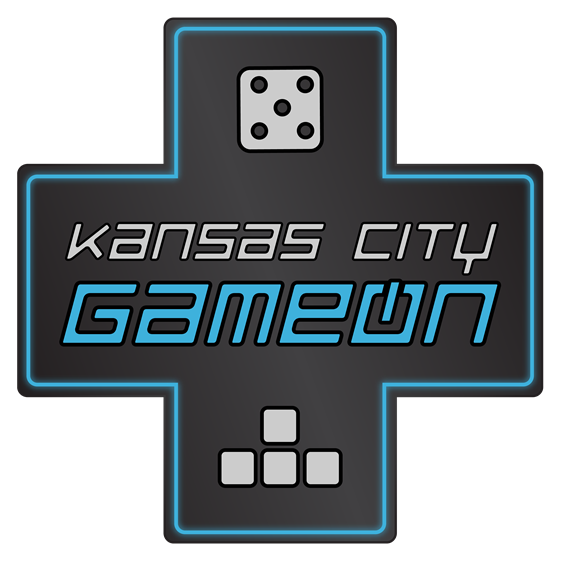 KC GameON! // Booth P 202
KCGameOn is a not-for-profit, whose purpose is to organize esports programs, conferences and bi-monthly events, forming tight knit gaming communities across the Midwest, promoting leadership, collaboration, professional growth and fun. Come to the Planet Esports Arena where KCGameOn! will be hosting APEX LEGENDS Tournament play throughout the weekend!
---
PAWN AND PINT// Booth P 109
Pawn and Pint is Kansas City's first Board Game Pub. With over 1,000 open board games in our collection, players can enjoy classics and new releases alike, participate in daily scheduled events, or saddle up to the bar and enjoy our full kitchen and drink menus.
Come check out our booth where we will have new release games for players to try and we will have some games of chance for prizes including free admission to Pawn and Pint as well as other prizes. You also might score free exclusive Munchkin Cards from Steve Jackson Games while supplies last!
---

KCBrickLab// Booth P 99
We are a non for profit club that has been recognized both nationally and internationally as one of the Top Lego Clubs in the world. We strive to bring the joy of our work to the community of and our fan base. Our display at Planet Comicon won recognition in Chicago! Come check out Rick and Morty's garage with life size 1×1 scale LEGO® figures of the main character's! Come get your picture taken with Rick and Morty and learn more about KCBrickLab and how you can get involved!
---

TAPCADE // Booth P 50
Tapcade is a retro video game parlor, craft beer bar and a movie theater to boot! Get your hands on classic arcade games from Tapcade, KansasCity's hometown arcade restaurant and bar.  Kansas City's original arcade bar is excited to return with our classic arcade games. Stop by our booth in the PEZ and attempt a high score today!
---
STATE FARM LOUNGE // Booth P 86
Come say hi to the nice folks at State Farm Insurance. These good people will be hosting a surprise interactive feature for your enjoyment! Come check it out!
---
KANSAS CITY MAVERICKS HOCKEY
The Kansas City Mavericks Hockey team is a partner with Planet Comicon Kansas City this year and we are proud to support this exciting hometown sports franchise!  On Saturday the Mavericks will make an appearance in the Planet Entertainment Zone with their mascots, players and  giveaways!
---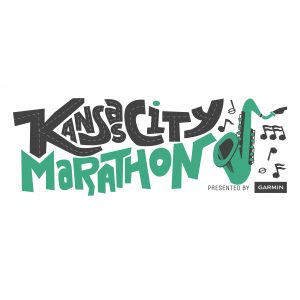 KANSAS CITY SPORTS COMMISSION // Booth P 42
Swing by the Kansas City Marathon booth and get your photo with The Flash – the world's all-time fastest runner! You can also play retro video games at the KCM booth and enter to win a free Garmin Smartwatch. The Kansas City Marathon is the largest race in town with 10,000+ runners & walkers, and they would also love to talk with you about their 5K, 10K, Half Marathon & Full Marathon, as well as the race's huge after party with free food, free beer and live music!
---
KSU POLYTECHNIC // Booth P 108
Want to be a pilot? How about piloting a drone?  Check out K-State Polytechnic and our exciting degree programs! Come try our airplane flight simulator and see what it takes to be a professional pilot. Fly a drone in our net and learn more about unmanned aircraft systems. Talk with current students about our hands-on degree programs and find out how to be a wildcat!
---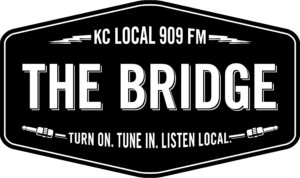 KCPT  Kansas City PBS & 90.9 The Bridge // Booth P 96
Get to the street where everyone counts and it's always a sunny day. Celebrate the 50th anniversary of Sesame Street with Kansas City PBS & 90.9 The Bridge at Planet Comicon. Take a free photo op. in Big Bird's nest. Pick up a free, limited edition Flatland & 90.9 The Bridge Origins Story comic book, while supplies last. Show your support of public media with a contribution to Kansas City PBS or 90.9 The Bridge and receive a Mister Rogers bobblehead doll or 90.9 The Bridge t-shirt. #ThisIsMyStreet
---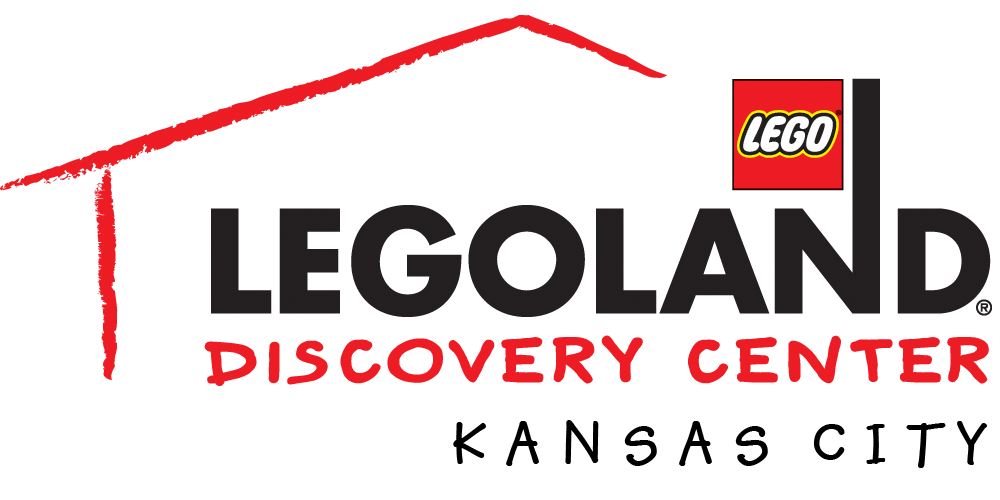 LEGOLAND® DISCOVERY CENTER KANSAS CITY // Booth P 56
Join LEGOLAND® Discovery Center's Master Model Builders for a live-action LEGO® build activity! Hands-on fun awaits! Then, enter to win giveaways while supplies last and get exclusive discounts for your next visit to LEGOLAND® Discovery Center Kansas City!
---
SCIENCE CITY & THE MAKER STUDIO
Science City & the Maker Studio – Science City is a place of wonder, where kids and adults can find something new with each visit. Throw the 'don't touch' mindset out the window. There are no tests and no wrong or right answers, just a chance to explore with freedom and pure imagination. The Maker Studio offers the opportunity to not only observe but also interact with different methods and materials of Making. From two-dimensional to three-dimensional, traditional methods to cutting edge technologies, using things from the junk box to innovative new materials. Visit our booth to snack on some science and get hands-on, making your own custom cosplay accessories!
Make & Take Activities
Friday, March 29th & Saturday, March 30th
"Make your own Ray Gun"
Piece together space junk to make a one-of-kind Ray Gun.
Sunday, March 31st
"Make an Intergalactic Travel Pass"
Don't explore space without it, make your own Intergalactic Travel Pass.
---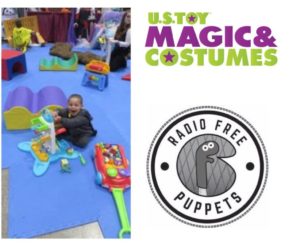 PLANET KIDS // Room 3501B
This year Planet Kids will be bigger and better than ever. It is a wonderful place for our youngest fans 8 and under to come to color, craft and play. We will have kids book readings and photo ops. There will even be a face painting station! A special feature this year will be the wonderful puppets from RADIO FREE PUPPETS who will spend the weekend working in Planet kids entertaining the kids and parents that come through! RADIO FREE PUPPETS is a unique entertainment team based in Kansas City. Kids will meet Fran and Frankie Valenstein, a monstrously lovable couple, Billy and Timmy, a pair of far out kids who travel space and time, and Dick Meteor: Intergalactic Private Eye! US Toy Costume Shop is a sponsor of Planet Kids. All children must be accompanied by an adult. This Year Planet Kids will be in Room 3501B.
---

RADIO FREE PUPPETS // Room 3501B
Radio Free Puppets is a variety radio hour… with puppets! Featuring a diverse cast of characters, Radio Free Puppets takes you back to a time when entertainment was only limited by your imagination and your radio's dial. Meet the cast of Radio Free Puppets as they mingle among you and make merriment! Some of the colorful characters you'll meet are: Fran and Frankie Valenstein, a monstrously lovable couple, Billy and Timmy, a pair of far out kids who travel space and time, and Dick Meteor: Intergalactic Private Eye! Radio Free Puppets is radio… as you've never seen it before! Performing monthly right here in Kansas City at The Buffalo Room, please visit radiofreepuppets.com for more info!
---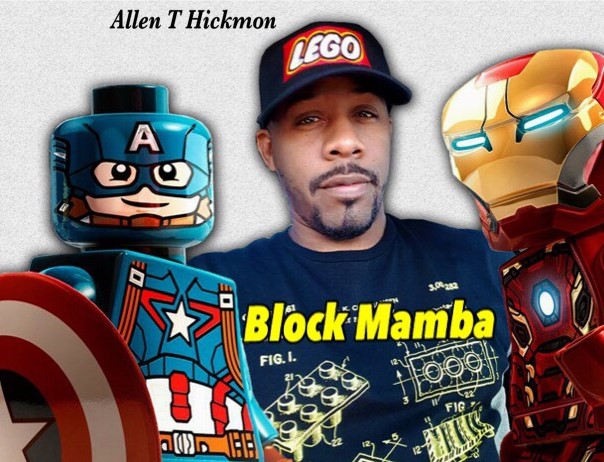 ALLEN T. HICKMON aka BLOCK MAMBA // Booth P30
Allen T Hickmon, aka Block Mamba is a lego master! Come check out his latest artistic creation! In his booth you will find a synthesis of lego art, Cosplay and Superhero body art all themed with the Avengers Infinity War End Game!
---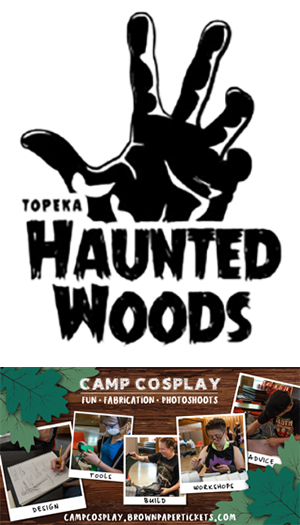 FOREST PARK CONFERENCE AND RETREAT CENTER // Booth P 100
Come visit the Topeka Haunted Woods booth and learn more about CAMP COSPLAY. Campers come together to learn skills in fabrication, photoshoots, sewing, make-up, 3D printing and modeling, mold creation, how to create the machines you'll need to take your costuming skills to the next level. Profits and proceeds from Camp Cosplay go to support a children's summer feeding program at Forest Park, Topeka.
---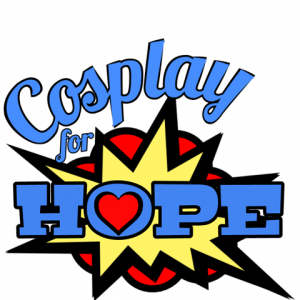 COSPLAY FOR HOPE // Booth P 109
Cosplay for Hope is bringing hope of mental wellness for those across multi-fandoms to prevent suicide. As the formation of the organization continues, it works to provide peer support through events in person & online as it continues to create new initiatives in the fandom worlds for mental wellness and suicide prevention.
---
KANSAS CITY RENAISSANCE FESTIVAL // Booth P 40
One of Kansas City's most beloved traditions is the Renaissance Festival! Come interact with the King and Queen and their court and maybe they will let you sit on the Throne! Get your medieval on in the Planet Entertainment Zone and be sure to ask about meade and turkey legs! The Ren Fest will be here before you know it but we will have a piece of it right here in the PEZ!
---
KANSAS CITY ZOMBIE WALK FOR HUNGER // Booth P 110
Who said zombies were bad? These zombies understand hunger more than most and therefore felt a need to give back! The Kansas City Zombie Walk for Hunger is an annual event that raises money to help feed the less fortunate. This year in the PEZ they will organize an undead march through the convention so watch your six! You can participate in the walk yourself if you bring 5 non -perishable items or a cash donation is also welcomed. If you want to participate as a Zombie dress the part and watch for details coming soon!
---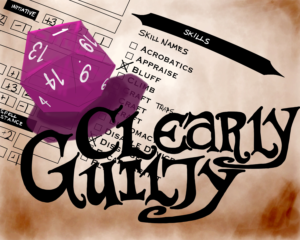 CLEARLY GUILTY Booth // P 99
Kansas City's Premiere Nerd Band! There is only one word that describes Clearly Guilty's music: Nerdy. And Purdy. Two words. There are only TWO words that describe Clearly Guilty's music: Nerdy and Purdy. And Dirty. Three words. Clearly Guilty: Nerdy, Purdy, and Dirty. (Also Geeky, Funny, Science-y, Absurd, Delightfully Inappropriate, and Rutabaga)
---
NAKA-KON Booth // P 32
Stop by the Naka-Kon Anime Convention booth in the Planet Entertainment Zone. It's the perfect time to preregister for Naka-Kon, held March 15 – 17 at the Overland Park Convention Center. Stop by, say hi, and hang out with your fellow anime fans at Planet Comicon!
---
US TOY COSTUME SHOP FACE PAINTING BOOTH // P 33
US Toy Costume shop is providing a face painting studio right in the PEZ! Their artists cannot wait to paint your favorite comic book and movie character symbols on you! Come by and watch pros at work and maybe even have that Deadpool logo put on your forehead like you've always wanted!
---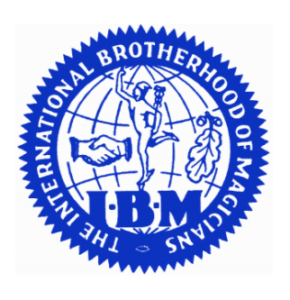 THE INTERNATIONAL BROTHERHOOD OF MAGICIANS KANSAS CITY CHAPTER // Booth P 43
Magic will be all over the Planet Entertainment Zone! Members from the club have been featured on network television, cross country tours, at Presidential Inaugural festivities, in Las Vegas casinos, and at venues all over Kansas City. The PEZ stage will showcase some of our finest professional magicians! In addition, members will be performing magic close up and in your hands at our interactive booth near the PEZ stage. Don't blink or you'll miss something incredible. And…if you have an interest in learning or performing magic yourself, stop by the booth to learn a trick and learn more about the club.