Safety
Planet Comicon Kansas City welcomes cosplay to our convention and the wonderful creativity and fun it adds to our show. We also value the safety of all those attending and are working with KCPD and our security contractor to put together a plan designed to help all attendees to enjoy our event to its fullest. PCKC reserves the right to conduct bag checks and utilize metal detectors as deemed appropriate by show management and our professional security team. We sincerely appreciate your patience and support.
Costume Props Policy
Please review PRIOR to attending Planet Comicon Kansas City (PCKC).
All props will be inspected and evaluated to determine if they present an unreasonable risk of harm to attendees of the show. Props will be evaluated from the standpoint of the risk they present based on the materials used, the way they are displayed or carried, their functionality, and potential for harm to others.
Added in 2018
:
No Air Soft guns of any kind will be allowed.
No prop guns which could be mistaken for contemporary real-world guns will be allowed. The question is – would the prop gun be reasonably confused with a real gun?
Light sabers and blasters and other futuristic prop gun weapons may be allowed. Simulated or costume prop weapons are allowed as a part of your costume, subject to approval by security and compliance with the following:
All costume props and weapons must be inspected each day of the convention at either of the Costume Props Desks:
#1 Near Will Call on the west side of Lobby 2200, Room 2211.
#2 Inside Municipal Arena for those purchasing an admission on site.
All costume props and weapons must conform to state and federal law.

Projectile costume props and weapons must be rendered inoperable.

Approved prop and toy firearms must have clearly visible orange cap covering the barrel

Functional (real) arrows must have their tips removed and be bundled and zip-tied to a quiver.

Costumes featuring stilts or oversize costumes must be approved at the Costume Props Desk. At certain times, due to crowds and safety issues, people in oversized costumes may be asked to leave the Exhibit Hall. Such costumes must be accompanied by an assistant to aid them in navigating the crowds and convention center.

After your costume props have been checked, they will be tagged by security.

Security will escort you to the Costume Props Desk for inspection if your costume prop is not tagged.

If your prop is not approved to enter the show, certain items may be checked at Room 2215 for a nominal fee. If not checkable, your prop will not be allowed to remain in the building.

Once your prop has been tagged, you are free to enter the show, or join the line to enter the show

.

Please be prepared to show your tagged prop to staff at any time when requested
If you do not want to have your costume props inspected or tagged, or if you are not willing to comply with these policies, please do not bring your costume props to Planet Comicon Kansas City. All costume props and weapons must be inspected at the Costume Props Desk.
Prohibited Items
Functional firearms (BB guns, cap guns, paintball guns, and pellet guns) including Air Soft guns

Functional projectile weapons (including blow guns, crossbows, long bows, silly string, slingshots, water balloons, and water guns) See below for approved bows and arrows.

Sharpened metal-bladed weapons (including axes, daggers, hatchets, knives, kunai, shuriken, swords, sword canes, machetes and switch blades)

Explosives (including firecrackers and fireworks)

Chemical weapons (including mace and pepper spray)

Blunt weapons (including brass knuckles, clubs, and nunchaku)

Hard prop weapons (including props made of metal, fiberglass, and glass) Some props containing some hard components as part of their construction may be allowed in the show.

Baseball bats and Hockey Sticks (unless made of foam, or light plastic)

Roller skates, roller blades and skateboards are not allowed in the Convention Center

No items that play music will be allowed in the show

Excessive Noise Making Instruments including, but not limited to vuvuzelas, grenade whistles and grenade horns.
Show management reserves the right to make changes to this policy at any time.
So What Does This All Mean?
We are aware that the recent rule changes have prompted a range of reactions and questions. Here is a guide to interpret the changes.
Here is a summary of the policy changes.
The following are now excluded:

Airsoft guns
other prop guns that are capable of being confused with real life guns regardless of the material they are made of.

What this rule change does not exclude:

fantasy or futuristic gun weapons like, but not limited to star wars blasters.
Obvious toy guns that look like real world guns.
Why the changes banning realistic real world prop guns ?
Prop check's in general seek to prevent entry of dangerous props. This rule change is concerned about protecting cosplayers in a different way.
The concern is the environment that would exist if we had an active shooter situation. The new rule is an attempt to reduce the confusion that the police would encounter going into this kind of an environment. Imagine entering the con on a busy Saturday surrounded by numerous costumed characters wielding replica pistols or realistic looking rifles. When we discussed our concerns with a police expert at a recent safety training session we attended, it was clear that the less guesswork that police have to do in this kind of situation the better! His concern was actually more for the safety of the person wielding a fake but realistic looking prop weapon becoming an unintended target of the police.
The biggest question is the line between acceptable and unacceptable toy prop guns. We were asked if the first picture of the two guns below are acceptable as prop weapons given that they are made of plastic.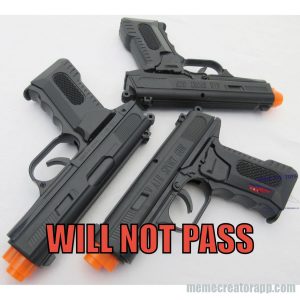 They are clearly cheap plastic guns. That is, up close it's obvious.
But at 50 -100 feet we think it's much harder to tell.
So as they are depicted they are not coming in.
However a couple of things could render these acceptable.
Paint the entire gun a bright color like fluorescent orange, pink, yellow, green! Cover the barrel tip so no hole is visible. Barrel tip must be brightly colored as well.
The other option is to peace bond these into a holster so they cannot at anytime be brandished!
You also can simply cut the barrels off and affix the handles into holsters. They are not a threat since they are in a holster and cannot be removed.
The other pictures should help you distinguish acceptable from unacceptable.
One more point:
The new policy when first released was over interpreted by some to be an extensive rewrite of the previous years rules. It isn't. It really only adds exclusions of airsoft guns and realistic looking real world guns, as discussed above.
One example of something that was perceived to be a new change was a ban on hard materials like metal and fiberglass. These have always been discouraged. The test is whether the prop presents an unreasonable risk of harm to convention attendees. Materials used, how the prop is displayed or carried and the potential for cutting, puncturing or bludgeoning are all factors that inspectors will consider.
Note: We are aware this new policy is cramping the style of some of our community of cosplayers. We do not want to rain on anyone's parade. There are plenty of arguments pro and con that can be made. For now, this is the policy we are committed to. After the convention we would be open to receiving feedback to help improve the policies regarding prop weapons.
Finally, we want you to keep perspective. In all likelihood your realistic looking prop guns are acceptable most places where you cosplay, just not at this show this year. Please don't let this wrinkle prevent you from enjoying your convention experience.
Convention Management
There will be cosplay first aid stations in the cosplay area on the convention floor to provide assistance during the show