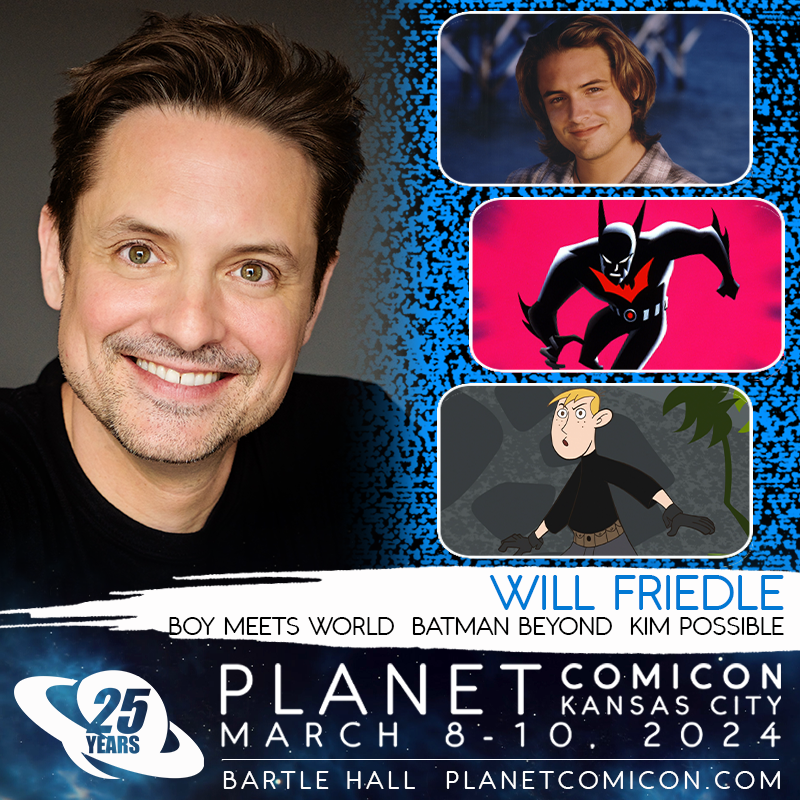 Other Pricing: Combo Autograph/Selfie - $80
Show Availabilty: Friday, Saturday, Sunday
 Will Friedle's extensive career has spanned three decades in sitcoms, movies, videogames and animated adventures, bringing life to roles as diverse as the iconic underachieving elder brother Eric Matthews on the classic TV sitcom Boy Meets World and the Batman of the future in Batman Beyond. He can currently be heard in roles on DC Super Hero Girls, Big Hero 6 and other animated projects.
Will began his career as a co-host for Nickelodeon's Don't Just Sit There in 1988. From 1993-2000, he took Eric Matthews from high school through college on Boy Meets World; 15 years later, he returned to the role of now-Senator Matthews on the Disney Channel series Girl Meets World for four episodes.
In the meantime, Will segued into voice acting, taking up the mantle of Batman for a new generation in the now iconic role of Terry McGinnis/Batman in Batman Beyond. Roles as Blue Beetle in Batman: The Brave and the Bold; Nightwing in Batman Unlimited: Animal Instincts and Batman Unlimited: Monster Mayhem; Deadpool in Ultimate Spider-Man; and Star-Lord in Marvel's Guardian of the Galaxy followed. To a generation of Disney fans, however, he'll always be the beloved Ron Stoppable, sidekick to the hero Kim Possible. Will was also Lion-O in the rebooted ThunderCats animated series; Doyle in The Secret Saturdays; and Bumblebee in Transformers: Prime and Transformers Prime Beast Hunters: Predacons Rising, as well as Transformers: Robots in Disguise.
Will has also written episodes of the 2011 series Thundercats; Girl Meets World; Transformers: Robots in Disguise; and Teen Titans Go! In addition to guest starring in the first campaign featured on the cult hit Critical Role, he served as host of the series Painter's Guild for the online network Geek & Sundry and Mini Primetime on the Critical Role YouTube Channel.