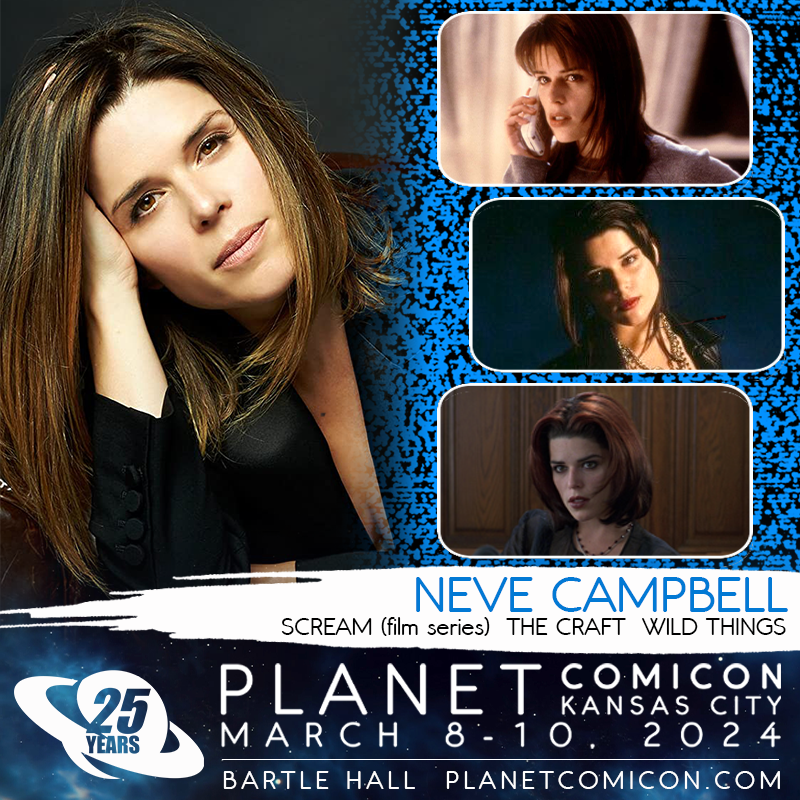 Other Pricing: Combo Autograph/Selfie - $100
Show Availabilty: Friday, Saturday, Sunday
Neve Campbell is a Canadian actress. She is known for her work in the drama and horror genres. She has appeared on People magazine's list of "50 Most Beautiful People" twice.
Following a series of minor appearances, Campbell played a starring role in the drama series Catwalk (1992–1994) and the television film The Canterville Ghost (1996), the latter winning her a Family Film Award for Best Actress. She subsequently relocated to the United States to play the role of Julia Salinger in the Fox teen drama series Party of Five (1994–2000), which was her breakthrough role, earning her recognition as a teen idol and a nomination for the Teen Choice Award for Choice TV Actress. While on the show, she starred in her first American feature film, headlining the supernatural blockbuster The Craft (1996).
Campbell rose to international prominence for starring as Sidney Prescott in Wes Craven's slasher film Scream (1996), which emerged as a critical and commercial success—becoming the highest grossing slasher film for over 20 years—and obtained a cult following. The success of the film spawned the Scream franchise, for which she reprised the role in the series' second (1997), third (2000), fourth (2011) and fifth (2022) installments, playing the role for 25 years. Although critical reception has varied with each film, Campbell has consistently earned praise for her work, and is one of the genre's highest-grossing and acclaimed heroines of all time. Scream has earned her several accolades, including two Blockbuster Entertainment Awards for Best Actress, a Fangoria Chainsaw Award for Best Actress, a Saturn Award for Best Actress, and an MTV Award for Best Female Performance, all of which were collectively awarded for the first two installments.
Campbell has achieved success in films such as the neo-noir thriller Wild Things (1998), 54 (1998) and the crime films Drowning Mona and Panic (both 2000), all of which garnered acclaim. She furthered this success with roles in the drama films Last Call (2002),  The Company (2003) and When Will I Be Loved (2004), the comedies Churchill: The Hollywood Years (2004) and Relative Strangers (2006) and the romantic-drama Closing the Ring (2007); Last Call won her the Prism Award for Best Performer in a TV Film/Miniseries. She returned to television after Closing the Ring, playing Olivia Maidstone in the NBC action drama series The Philanthropist (2009), LeAnn Harvey in the Netflix political thriller series House of Cards (2016–2017) and Margaret McPherson on the Netflix crime drama The Lincoln Lawyer (2022–present). She appeared in the miniseries Titanic: Blood and Steel (2012) and continues to work in film, starring in the comedy-drama Walter (2015), the action film Skyscraper (2018), the Canadian-drama Castle in the Ground (2019) and the musical drama Clouds (2020).
In 2022 she returned as Sidney Prescott in the fifth installment of the Scream series. She is also appearing in the series Twisted Metal.