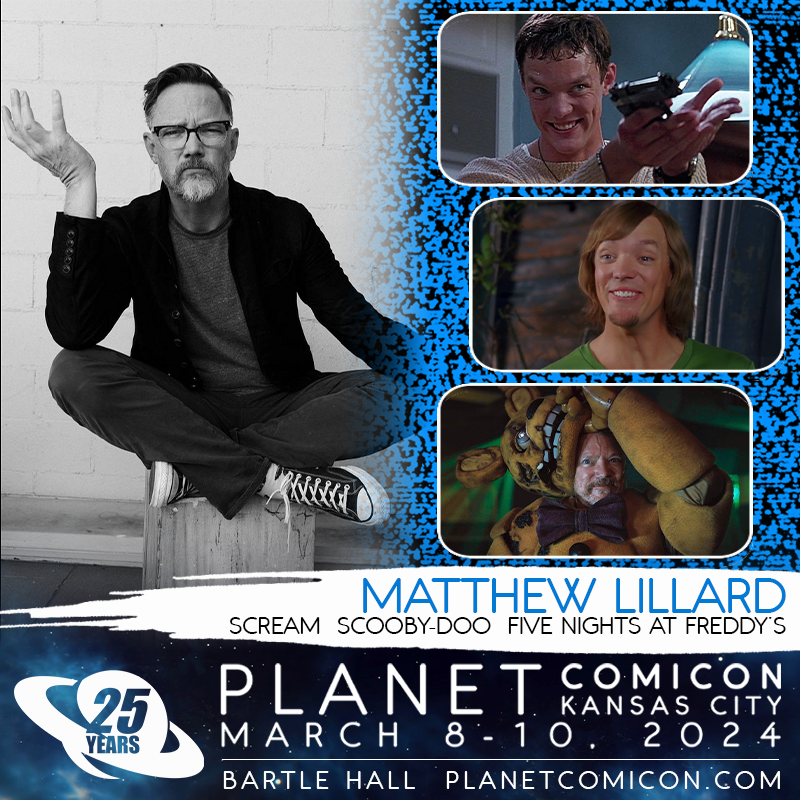 Other Pricing: Combo Autograph/Selfie - $120
Show Availabilty: Friday, Saturday, Sunday
Matthew Lillard is an American voice actor, actor, director, and producer.
After high school, Lillard was co-host of a short-lived TV show titled SK8-TV, and afterwards was hired as an extra in Ghoulies 3: Ghoulies Go to College. In 1994, he was cast in the John Waters black comedy Serial Mom. The following year he was cast in five films, including Hackers, which featured a group of high school kids who thwart a multimillion-dollar corporate extortion conspiracy. In 1996, he was cast as Stu Macher in the horror film Scream. He also played Stevo in the independent film SLC Punk!, and supporting character Dennis Rafkin in Thirteen Ghosts.
Lillard was cast as Shaggy Rogers in the 2002 live-action Scooby-Doo film, a role he later reprised in the 2004 sequel Scooby-Doo 2: Monsters Unleashed. When Casey Kasem, who had voiced the character from the show's debut in 1969, retired due to declining health in 2009, Lillard was chosen as his replacement and voiced Shaggy in the two subsequent animated series, Mystery Incorporated andBe Cool Scooby-Doo!, as well as every direct-to-video film since 2010's Scooby-Doo! Abracadabra-Doo. In 2011, Lillard guest starred on the Fox series House. He produced and directed his first feature film, Fat Kid Rules the World, based on the K. L. Goingbook of the same name. Later that year, he appeared in the comedy-drama film The Descendants. Lillard also reprised the voice role of Shaggy in the crossover episode in the television series Supernatural in 2018.
In 2012, Lillard guest starred in the Criminal Minds episode "The Apprenticeship". The following year, he played the role of Daniel Frye on the American TV series The Bridge. In 2014, Lillard starred as Peter in the animated film Under Wraps, alongside Brooke Shields and Drake Bell. In 2017, Lillard starred as William Hastings in the third season of Twin Peaks. He also starred as Dean Boland in the television series Good Girls (2018–2021). Most recently he plays William Afton in the 2023 mega hit Five Night's At Freddy's based on the very popular video game.