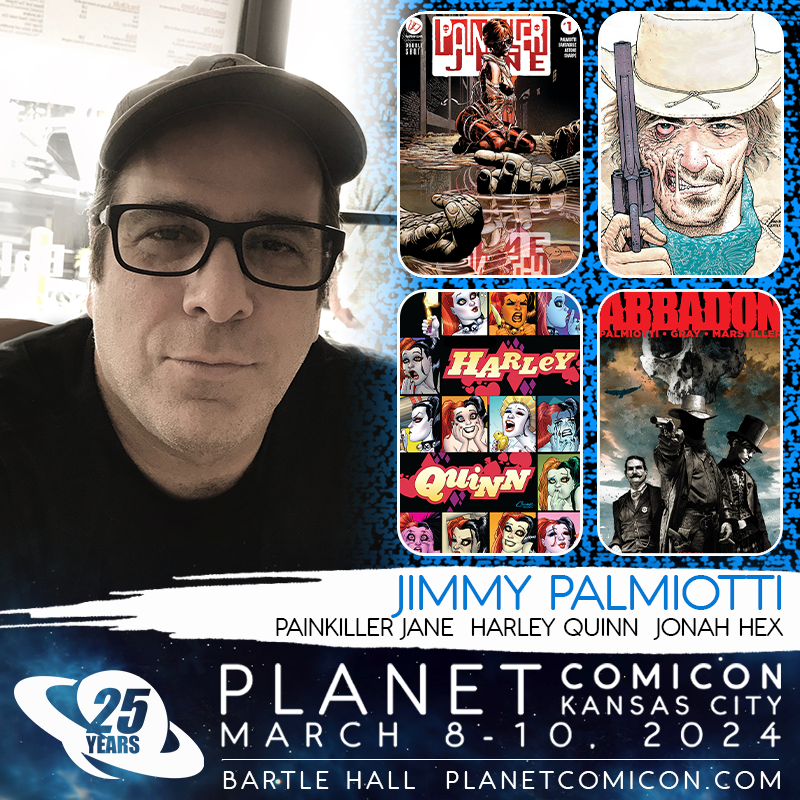 Show Availabilty: Friday, Saturday, Sunday
JIMMY PALMIOTTI is a Brooklyn born multi award winning character creator with a wide range of experience in advertising, production, consulting, editorial, screen writing, development and production, media presentation and video game development. Just a few of his clients include Nike, Nickelodeon, Universal pictures, Disney, Marvel, Warner Brothers, DreamWorks, Lion's Gate, Vidmark, Starz, Fox, Alliance films, New Line, Spike TV, MTV, 2kgames, Midway, Radical games, Activision and THQ games.
He is co founder of such companies as Event Comics, Black Bull Media, Marvel Knights, a division of marvel comics, and the current Paperfilms, where he partners with Amanda Conner, his wife, and Justin Gray. He has created and co- created numerous universes, comics, video games, TV series and characters including: The New West, Monolith, 21 Down, The Resistance, The Pro, Back To Brooklyn, Gatecrasher, Random Acts of Violence, Killing Time in America, Beautiful Killer, Ash, Cloudburst, Trigger Girl 6, Trailblazer, Ballerina, The Twilight Experiment, and Painkiller Jane.
His Latest work includes: Harley Quinn and Wonder Woman for DC COMICS, he also currently has four feature films in development: Painkiller Jane, Random Acts of Violence, Back To Brooklyn, Killing Time In America and Girl in Storm with his film development company Trio Entertainment.