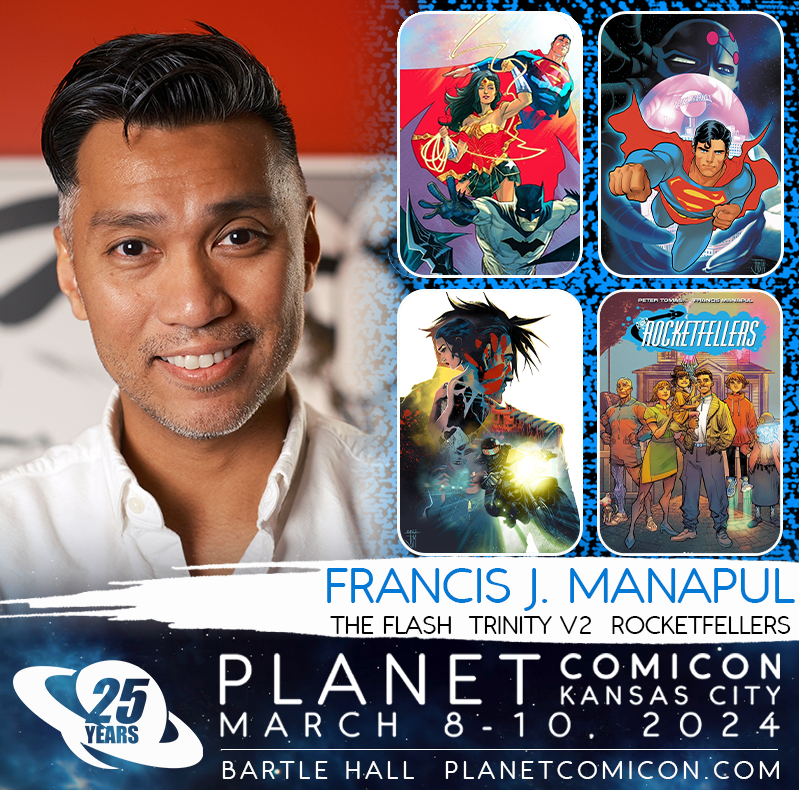 Show Availabilty: Friday, Saturday, Sunday
Manapul is known for his work on Witchblade and The Necromancer for Top Cow, working on the former for three years, off and on, returning for the tenth anniversary issue in 2005. He has provided covers for various titles, most notably for some G.I. Joe comics from Devil's Due Publishing.
In 2007, he signed an exclusive contract to work with DC Comics. Manapul served as a guest judge in the fourth week round of the third season of Comic Book Idol, a comic book art competition sponsored by Comic Book Resources.
In 2008 Francis became the artist for DC's Legion of Superheroes with Jim Shooter as the writer. Francis co-created the character Gazelle with Shooter before leaving the title. In January 2010, Newsarama named Manapul one of ten creators to watch for the coming year. In 2009, he was named to be the artist in DC's new Flash series written by Geoff Johns which stars Barry Allen in the lead role.
In 2011 Manapul was awarded the Joe Shuster Award for Outstanding Artist and the All-in-One Award (Favorite artist known for almost-exclusively inking his/her own interior comic book pencil work and rarely the work of others in '10) from the Inkwell Awards. That May, DC Comics announced a massive revamp and relaunch of their entire superhero line, as part of this Francis was named writer/artist on the Flash, with his longtime colorist/collaborator, Brian Buccellato co-writing with him.
In April 2014, Manapul and Buccellato moved from The Flash to Detective Comics. That August, Manapul created Batman poster for New York Comic Con. In 2016, Manapul became the writer and artist for the DC Rebirth comic book series Trinity.