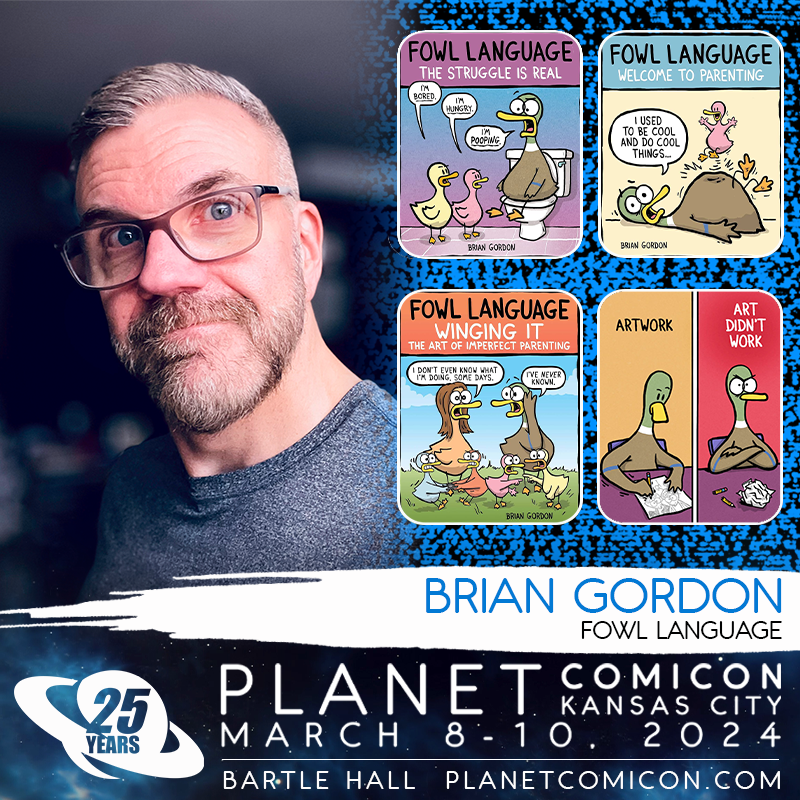 Other Pricing: Check table for pricing
Show Availabilty: Friday, Saturday, Sunday
A million years ago, Brian Gordon spent his time staying out late, hitting the clubs and eating at fancy restaurants.
And then suddenly…CHILDREN.
While he loved being a dad more than anything else, he also noticed that at times, parenting can be a total crap-fest.
In the summer of 2013, Brian began drawing Fowl Language as a fun (and often profane) way to vent his frustrations over the day-to-day tedium and challenges of being a parent to two small children. After getting laid off in 2015 from his job as a greeting card artist, he decided to pursue the comic full-time. His work quickly became an internet viral sensation, and is seen and shared regularly by millions of people all over the world.
The first collection of his work, Fowl Language: Welcome To Parenting, was published in 2016, followed by The Struggle Is Real in 2017 and Winging It in 2019, which included the addition of his two step children. His most recent book, Tweenage Wasteland was published in 2023 and details the wild and scary ride that is parenting 4 very hormonal children.
When he's not cartooning, Brian divides his time between keeping his kids alive and trying not to lose his mind in the process. He's only good at the first thing.