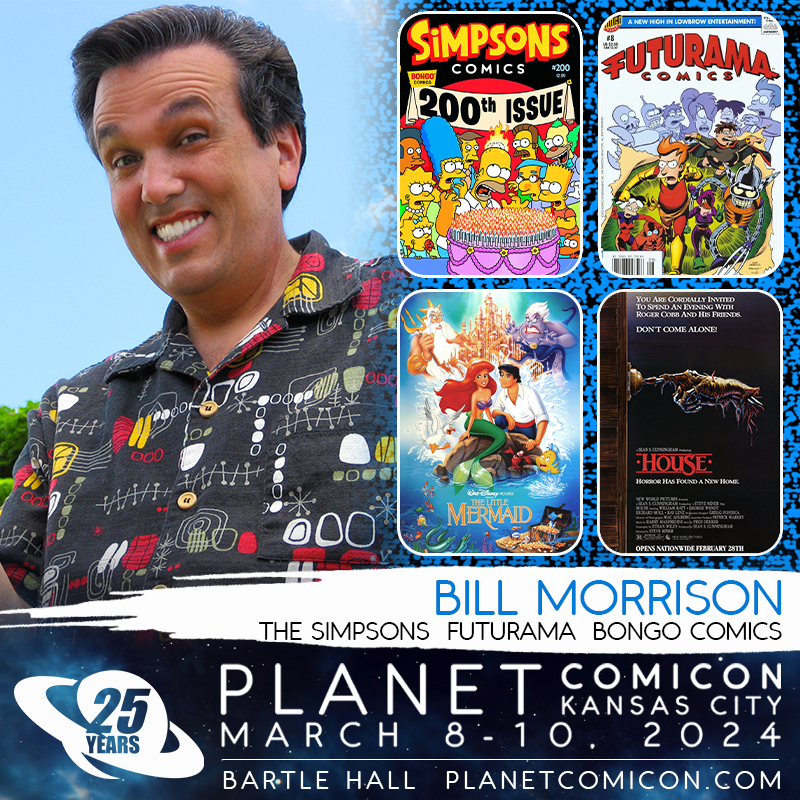 Other Pricing: Check table for other pricing
Show Availabilty: Friday, Saturday, Sunday
Bill began his career as an illustrator, painting dozens of movie posters including many for Walt Disney Pictures, such as The Little Mermaid, Bambi, Peter Pan, Cinderella, and The Jungle Book. 
When Matt Groening founded Bongo Comics, Bill was on board as art director and drew the very first Simpsons comic. He soon took on the role of Creative Director, editing Bongo's entire output, and writing and drawing stories and covers. 
In addition to his Bongo work, Bill has created thousands of Simpsons and Futurama drawings for T-shirts, video games, posters, toy packaging, books, calendars, limited edition prints, etc. 
Bill also worked with Groening on early character designs for the Futurama TV series and served as series Art Director. And he recently worked as character designer and artist on Groening's Netflix series, Disenchantment.
Most recently, Morrison created a graphic novel adaptation of The Beatles Yellow Submarine for Titan Comics, and was Executive Editor of MAD Magazine.