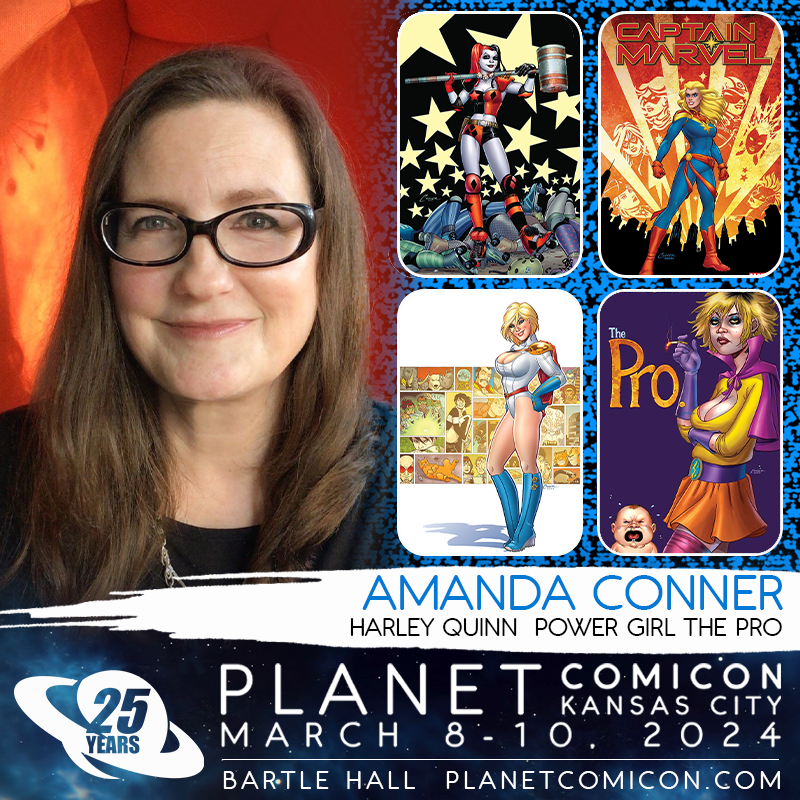 Show Availabilty: Friday, Saturday, Sunday
Amanda Conner started out as an illustrator for New York ad agencies Kornhauser and Calene and Kidvertisers. She worked on a number of launches and campaigns such as Arm & Hammer, PlaySchool and Nickelodeon, to name a few. Her start in comics came with Marvel Comic's Barbie line and continued with her illustrating titles such as Disney's Gargoyles, Excaliber and X-men. She also worked with writers Grant Morrison, Mark Millar, Warren Ellis and Garth Ennis on titles for many companies including Vampirella, Two-Step, and many more.
However, loving comic books and cartooning the most, Amanda found herself working for Marvel on their Barbie line (many of Amanda's covers were made into designs for the line of Barbie toys), Disney line which inlcuded the Gargoyles books. At the same time she was illustrating Soul Searchers & Co. for Claypool Comics and worked on other Marvel projects, such as Excalibur for the X-Men line andSuburban Jersey Ninja She-Devils.Amanda then moved on to work several years as artist on the hit series Vampirella for Harris Comics , working with the top writers in the field, Grant Morrison, Mark Millar and Warren Ellis.
Since then, Amanda has moved on and has worked on many of the top titles in comics such as Supergirl, Painkiller Jane, Powergirl, Wonder Woman, Lois Lane,Codename: Knockout, Terra and Birds of Prey , X-Men Unlimited for Marvel, co-created Gatecrasher for BlackBull Comics, and The Pro, a creator owned book for image with Jimmy Palmiotti and Garth Ennis. Her biggest hit to date has been HARLEY QUINN, revamping the character and costume and becoming one of the biggest characters in comics in the process.
Amanda's work can also be seen outside the comic book community in such places as The Big Bang Theory, Young Sheldon, ABC'S Nightline, the New York Times, Mad Magazine, character designs for film and television, and Amanda is featured in a Biography magazine commercial on A&E.
Amanda's work can be seen in Harley Quinn, on numerous covers for all the major comic companies and the current Justice League of America Wonder Woman storyline.