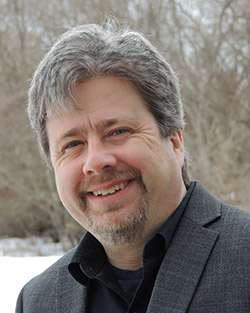 Best Known for: Star Wars, Star Trek
New York Times bestselling author John Jackson Miller has spent a lifetime immersed in the worlds of fantasy and science fiction. He's best known for his Star Wars and Star Trek work, including Star Wars: Kenobi, his Scribe Award winning novel from Del Rey; Star Wars: A New Dawn; the Star Trek: Prey trilogy, and Star Trek: Discovery – The Enterprise War.
He's also written comics included the long-running Star Wars: Knights of the Old Republic comics series, as well as comics for Battlestar Galactica, Halo, Lion King, Mass Effect, Iron Man, Indiana Jones, and The Simpsons. Production notes on all his works can be found at his fiction site (farawaypress.com).
Miller is also a noted comics industry historian, specializing in studying comic-book circulation as presented on his website, Comichron (comichron.com). He also coauthored the Standard Catalog of Comic Books series.