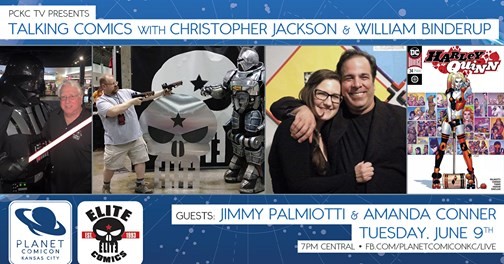 Date/Time
Date(s) - Jun 09
7:00 pm - 8:00 pm
Categories
Event Website: facebook.com/planetcomiconkc/live
Join Planet Promotions CEO/Planet Comicon Kansas City owner Christopher Jackson and Elite Comics owner William Binderup as they talk about a subject very near and dear to both of them – COMICS! In this edition, they welcome noted comic creators Jimmy Palmiotti and Amanda Conner.
Writer and artist Jimmy Palmiotti is a multi-award winning comic book creator with a wide range of experience and background in advertising, production, editorial, film writing, production, media presentation and video game development. He is also the co-founder of such companies as Event Comics, Black Bull Media, Marvel Knights and the current PaperFilms, where he is partners with Amanda Conner, Justin Gray, Frank Tieri and Paul Mounts to create/co-create original characters and stories.
Fellow writer and artist Amanda Conner has worked on many of the top titles in comics such as "Lois Lane", "Codename: Knockout", and "Birds of Prey" for D.C. Comics Vertigo line, "X-Men Unlimited" for Marvel, co-created "Gatecrasher" for Blackbull Comics, and "The Pro", an Eisner-nominated, creator-owned book for Image Comics with Jimmy Palmiotti and Garth Ennis. Recently she worked on the highly publicized "Before Watchmen: Silk Spectre" series with Eisner-winning creator Darwyn Cooke.
Collectively, Jimmy and Amanda are currently working on the highly received Harley Quinn series and other Harley Quinn related titles for DC Comics, in addition to several upcoming DC-related projects.
William will also review upcoming new releases and what you can expect to see coming soon to your friendly neighborhood comic shop.