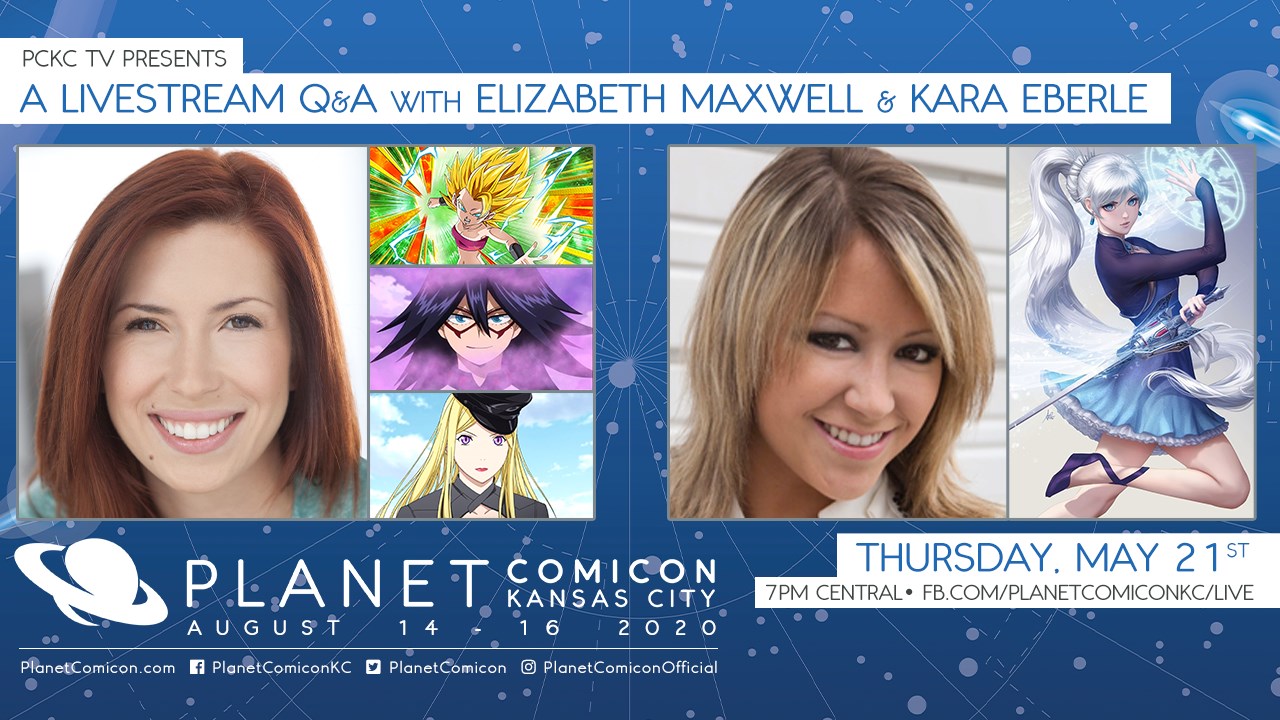 Date/Time
Date(s) - May 21
7:00 pm - 8:00 pm
Categories
Event Website: https://bit.ly/36et5PQ
Voice stars Elizabeth Maxwell and Kara Eberle will be joining us on PCKC TV for an hour-long livestream Q&A session on Thursday, May 21st, at 7pm Central hosted by Christopher Jackson and PCKC emcee extraordinaire Kid Cadet!
Elizabeth Maxwell is an accomplished actress, award-winning voiceover artist, and life-long lover of all things geek. She made her debut in the dubbing world on the runaway hit anime series Attack on Titan (Ymir) and soon after took on the most recent incarnation of The Major in Ghost in the Shell: Arise (Motoko Kusanagi). Other popular anime titles include Dragon Ball Super (Caulifla/Kefla), My Hero Academia (Midnight), Noragami (Bishamon), Fairy Tail (Jenny Realight), Overlord (Albedo), Soul Eater Not! (Shaula Gorgon), Black Butler: Book of the Atlantic (Frances Midford), and Code Geass: Akito the Exiled (Ayano Kosaka).
Kara Eberle is an American voice actress and Internet personality. She is most known for her role as Weiss Schnee in the award-winning anime series, RWBY. Kara first stepped into the industry working at Rooster Teeth, where she met Monty Oum (RWBY's creator) in 2011. They became close friends, and Oum shared a "crazy idea" that would turn out to be a global phenomenon.