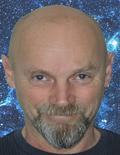 Jim Starlin has been a leading creative force in the comic book industry for over four decades. He has worked on iconic characters ranging from Iron Man and Batman to the Avengers and the Justice League. While working at Marvel Comics, he created major characters including Thanos, the lynchpin villain of Marvel's current "Cinematic Universe," and Drax the Destroyer & Gamora of GUARDIANS OF THE GALAXY. He broke new ground with one of the first creator-owned series—the epic space opera DREADSTAR.

After stints on THE AMAZING SPIDER-MAN and IRON MAN, Jim was offered Marvel's first "cosmic" comic, CAPTAIN MARVEL. He took over writing chores after drawing his first issue, soon establishing Thanos and making him the integral character of Marvel's universe outside of Earth. After co-creating Shang-Chi, Master of Kung- Fu, Jim took over WARLOCK and ushered him into Marvel's cosmic universe. WARLOCK became one of Marvel's signature titles of the decade, and cemented Jim as a master of the space opera. Marvel recently announced that Jim's work will be used as the basis for the third and fourth Avengers movies: AVENGERS: THE INFINITY WAR PARTS 1 & 2.

The '80s would see Jim create his character Vanth Dreadstar, and launch what is widely considered as one of the decade's definitive series: DREADSTAR. One of the first creator-owned series, it helped pave the way for other writers and artists to control their creations. The decade would also see Jim work at DC Comics, writing BATMAN and killing off Robin as part of the famous "A Death in the Family" story. Other highlights of this period include the Justice League prestige series COSMIC ODYSSEY with Mike Mignola and THE WEIRD, with Bernie Wrightson.

He would eventually return to Marvel, reviving the SILVER SURFER series, and eventually bringing back Thanos while introducing the Infinity Gems and doing a best-selling series of cosmic miniseries, starting with THE INFINITY GAUNTLET. Recent years have seen him working on such titles as MYSTERY IN SPACE, STRANGE ADVENTURES, DEATH OF THE NEW GODS, MARVEL: THE END, and THANOS: THE INFINITY REVELATION.

Outside of comics, Jim has written four prose novels with Diana Graziunas, AMONG MADMEN, LADY EL, PAWNS, and THINNING THE PREDATORS.

A native of Detroit, Michigan, Jim currently resides in upstate New York.