Appearing all 3 days!
Booth 1227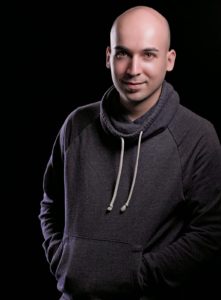 Well known for his colorful oil paintings, most often depicting strong women, Dan dos Santos' work spans a variety of genres, including novels, comics, film and video games.

He has worked for clients such as Disney, Universal Studios, Activision, Boeing Aircraft, Scholastic Books, The Greenwich Workshop, Penguin Books, Random House, UpperDeck, Hasbro, DC Comics, and many, many more.

Dan has been the recipient of many awards. He is a 'Rhodes Family Scholarship' winner, a five time 'Hugo Award' Nominee for Best Artist, and has received both Gold and Silver Medals from 'Spectrum: The Best in Contemporary Fantastic Art'. His illustrations have graced the #1 spot on the New York Times Best Seller list numerous times and his covers are seen in bookstores in dozens of countries around the world.

Simply put, Dan dos Santos is one the most recognized artists in his field. With hundreds of book covers to his credit, his vision has helped shape what the Fantasy market is today.