Appearing all 3 days!
Booth C81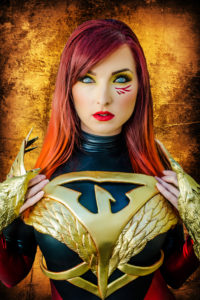 Alkali Layke is a Cosplayer hailing from Boise, ID. Alkali, or Ally as she's known to her fans, got her start in Cosplay after appearing at a convention as a Special Effects Makeup artist. After that, it wasn't her makeup skills making the headlines….it was her cosplay! When Ally is not in cosplay she is a full time Twitch streamer and gamer for eSports team Fade2Karma. Her most recent cosplay accomplishment was a new take on Red Sonja and the 10 piece armor and scalemaille build landed her the cover of the upcoming Red Sonja issue coming out in May 2019.
Ally considers herself an "equal opportunity geek", because she regularly geeks out on a multitude of fandoms. Although she prides herself on her 90's Saturday cartoon knowledge, she's also a HUGE Star Wars fan, loves X-Men (hint hint…take another look at her cosplay name), Game of Thrones, Batman, and anything on the SyFy channel. Her most recent creations have been from the Blizzard World of Warcraft gaming franchise and her favorite game Hearthstone.
You follow the "Ally Adventures" here:
Instagram
Facebook
Twitter