Appearing all 3 days!
Booth 3633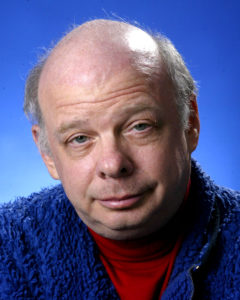 Autograph Price: $40
Photo Ops: $50
Selfies: $30

WALLACE SHAWN has appeared in various films, including four directed by Louis Malle, including MY DINNER WITH ANDRE and VANYA ON 42ND STREET, and five directed by Woody Allen, including MANHATTAN and RADIO DAYS. He also appeared in Amy Heckerling's CLUELESS and VAMPS, Paul Bartel's SCENES FROM THE CLASS STRUGGLE IN BEVERLY HILLS, Alan Rudolph's THE MODERNS, Tom Noonan's THE WIFE, Rob Reiner's THE PRINCESS BRIDE, Patricia Rozema's KIT KITTREDGE, Richard Ayoade's THE DOUBLE and Paul Weitz's ADMISSION. He played the title role in A MASTER BUILDER, directed by Jonathan Demme.
He is the voice of "Rex" in TOY STORY, TOY STORY TWO and TOY STORY THREE. He recently appeared on television in THE MARVELOUS MRS. MAISEL, THE GOOD FIGHT, SHE'S GOTTA HAVE IT, and MR. ROBOT, and he has had recurring roles in the television shows THE COSBY SHOW, MURPHY BROWN, THE "L" WORD, STAR TREK: DEEP SPACE NINE, GOSSIP GIRL, THE GOOD WIFE, MOZART IN THE JUNGLE, and YOUNG SHELDON. On stage he has appeared in his own plays THE HOTEL PLAY, THE FEVER, AUNT DAN AND LEMON, THE DESIGNATED MOURNER, GRASSES OF A THOUSAND COLORS and EVENING AT THE TALK HOUSE (both at The National Theatre in London and at The New Group in New York). Shawn's plays are published by TCG Books and Grove Press, and his books, ESSAYS and NIGHT THOUGHTS, are published by Haymarket Books.