A Planet Comicon Kansas City Exclusive: Detective Comics #1000 Variant Cover and Doug Mahnke Meet & Greet!
Please NOTE: The time and place of the VIP Meet & Greet is now SET! It will be held on Saturday Marcy 30 at 5:30 PM in Room 2501D (Just down the hall from the Grand Ballroom) See below for details about the Meet & Greet
In celebration of Doug Mahnke's rare convention appearance and the historic release of Detective Comics #1000 only two days before our epic 20th anniversary event, we are thrilled to provide two very special opportunities to our attendees.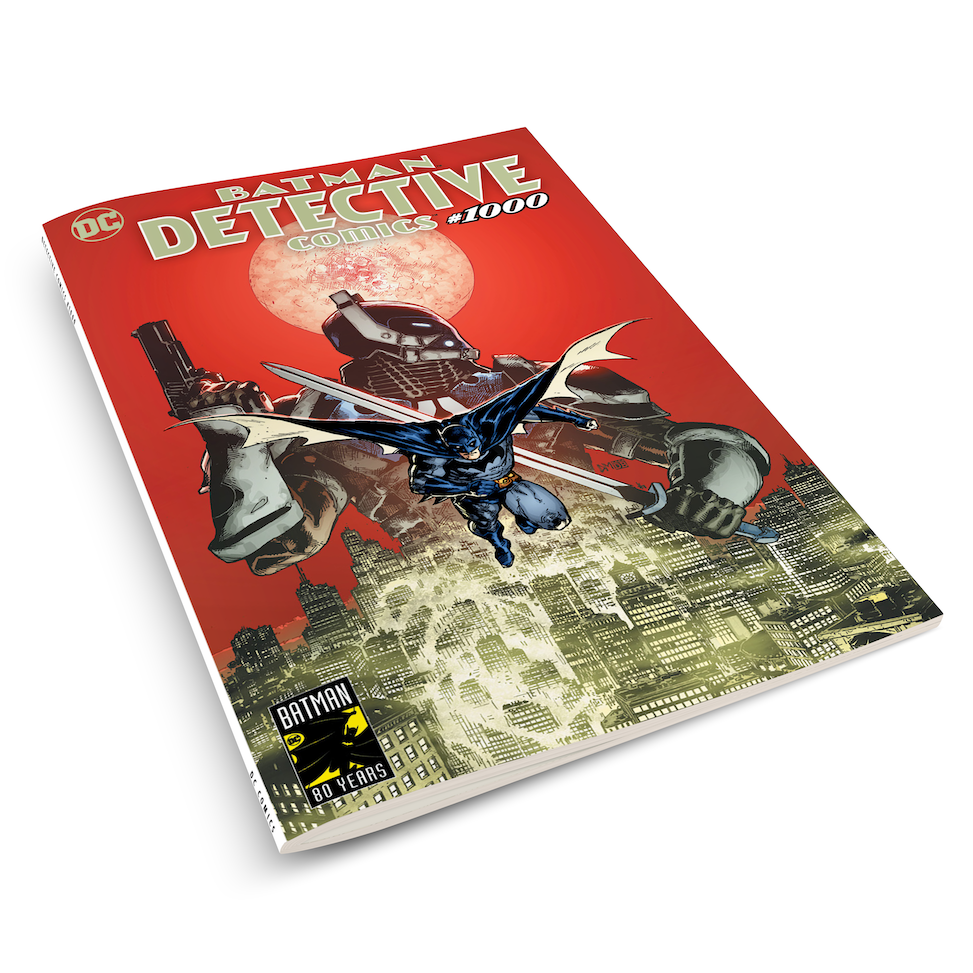 First,PCKC is offering an exclusive cover variant edition of Detective Comics #1000 with cover art by Doug Mahnke. Doug is the designer of the Arkham Knight for the DC continuity and Detective Comics #1000 features the DEBUT of the Arkham Knight; This makes the PCKC exclusive all that much more collectible, as the Mahnke version is the only Detective #1000 cover variant to feature the Arkham Knight!
There will be two exclusive variants featuring the Doug Manke art. The first version, EXCLUSIVE to Planet Comicon Kansas City, will be the Detective Comics #1000 trade dress edition, featuring the Detective Comics logo on the front and the PCKC logo on the back. It is limited to 2500 copies. The second version will be the "virgin" variant and will be a Doug Mahnke Exclusive Tour Book. The virgin variant features the Doug Mahnke Exclusive Logo on the back and is limited to 1000 copies. Both covers are shown here.
The PCKC exclusive trade dress edition will be offered for purchase at Planet Comicon Kansas City and will be included as part of the Doug Mahnke Meet & Greet Package. Both versions will be available at the Doug Mahnke booth. The PCKC trade dress edition is also available at the PCKC merchandise booth. Both books will have a limited number available each day. Detective #1000 will be released on the Wednesday before PCKC 2019. The Mahnke variants will be first available ONLY at Planet Comicon Kansas City.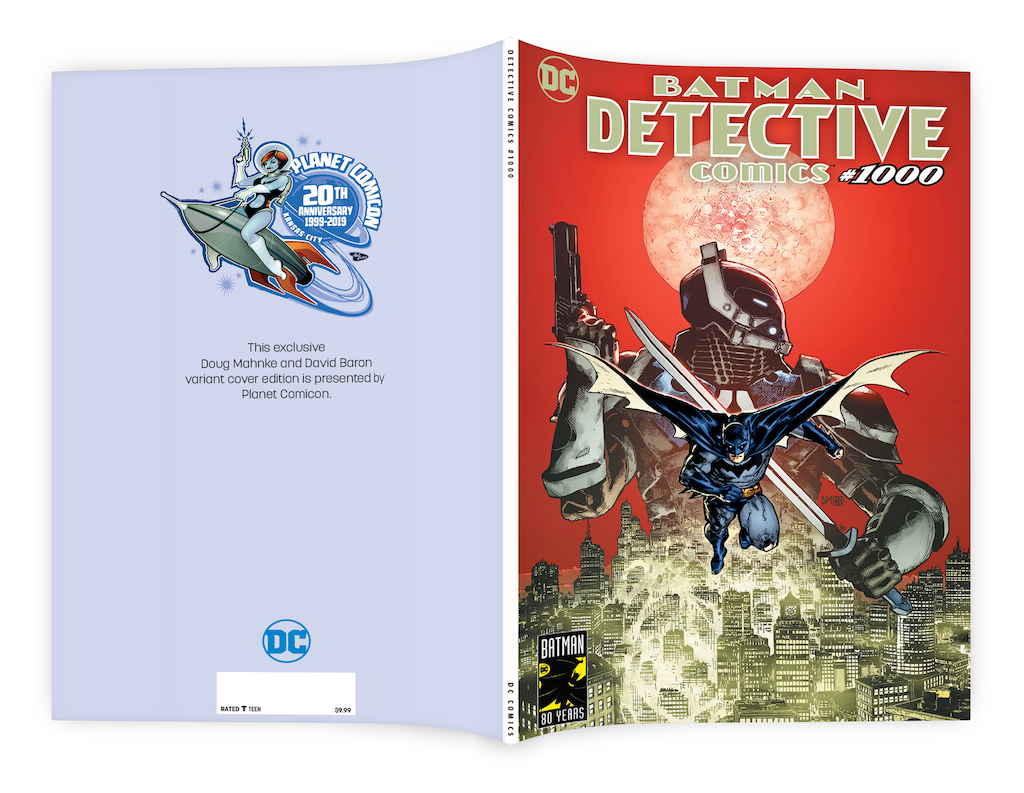 Secondwe are offering an incredible opportunity for a Doug Mahnke VIP Meet & Greet. You will be able to attend a private panel, get an autographed copy of the Arkham Knight PCKC exclusive "trade dress" cover variant of Detective Comics #1000. In addition, you will get a load of extras!
DOUG MAHNKE VIP MEET & GREET
Private Panel(Saturday March 30, 5:30 PM, Room 2501D (just down the hall from the grand ballroom)
Limited edition print featuring Doug Mahnke Art, exclusive to PCKC
Detective #1000 Doug Mahnke PCKC exclusive "trade dress" cover variant, autographed
Five (5) additional fan provided items will be autographed by Doug Mahnke. If desired, each will be witnessed for CGC or CBCS signature verification, with no signature verification autograph fee (normal $10 per item) for a $50 value. (Cost of slabbing and grading by CGC or CBCS is not included)
Photo of VIP attendee with Doug Mahnke using fan-provided camera.
Batman Metal #5 Planet Comicon Kansas City 2018 Greg Capullo exclusive variant cover (random selected from versions A through D)
Exclusive VIP Doug Mahnke Meet & Greet badge and lanyard.
PLUS EXTRAS!
Randomly inserted Mahnke remarks into bags at Meet & Greet
Randomly inserted Detective #1000 exclusive Doug Mahnke "virgin" cover variant
CBCS and CGC available in VIP area
A Grab Bag including several of the following items:

Planet Comicon KC exclusive variant editions, chosen from…

TMNT #92 PCKC 2019 Kevin Eastman art
TMNT #69 PCKC 2017 Kevin Eastman art
Harley Quinn #18 PCKC 2017 Amanda Conner art
Grimm Fairy Tales #122 PCKC 2016 Dawn McTeigue art
Amazing Spider-Man #623 PCKC 2010 Joe Jusko Art Exclusive
Uncanny X-Men #507 PCKC 2009 Michael Golden art

Each grab bag will include at least the TMNT 69, Harley Quinn 18 and Amazing Spider-Man 623
Plus at least one and maybe more of the other books will be randomly inserted. Some of the books will be signed and some remarked. Some lucky buyers will receive CGC graded copies (some signature series) of the Amazing Spider-Man and Harley Quinn
PLEASE NOTE:This VIP Meet and Greet will last 1 to 2 hours, beginning at 5:30 PM on Saturday March 30. It will be held on Room 2501D (just down the hall from the Grand Ballroom). The VIP Meet & Greet DOES NOT include admission to the convention. An admission valid on Saturday March 30 MUST also be purchased, which may be a Saturday one-day admission, a 3-Day admission or Fast Pass. The admission will have a separate credential, which must also be worn. Watch the PlanetComicon.com web-site and social media for any updates or changes, plus we will e-mail any changes to the e-mail provided with the purchase.